21st February 2013
Solar Power is Blooming Marvellous for Residents at The Rose Garden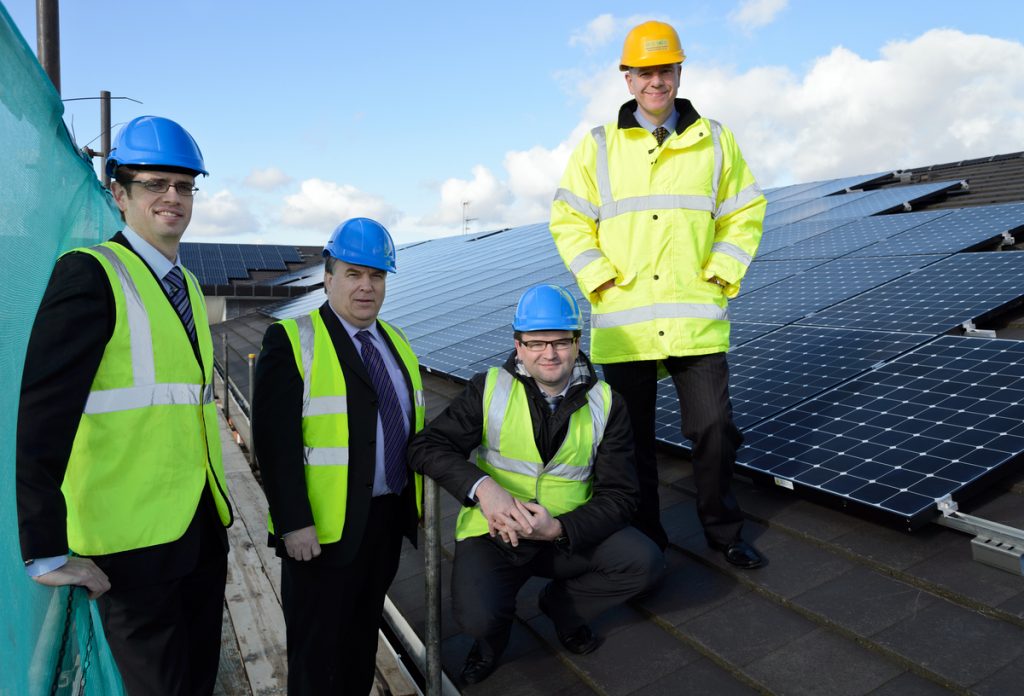 Residents at The Rose Garden Extracare village in Hereford are set to make significant energy savings, thanks to an 80-kilowatt solar energy system installed by Eco2Solar. The major investment by Festival Housing, owners of The Rose Garden, is expected to save each resident around £80 per year on their energy bills, as well as providing 33.5 tonnes of carbon savings per year.
Eco2Solar was selected as project installer to manage Festival's biggest solar panel installation to date at The Rose Garden, following a competitive tendering process.The Rose Garden system comprises 245 Sunpower E20/333 panels and is expected to produce more than 67,042 units of 'green' energy every year – equivalent to the annual electricity use of 20 average households. All electricity generated will be used on site, helping to reduce service charges for residents living at The Rose Garden.
Festival Housing will also benefit from the government-backed Feed in Tariff (FIT) and is expecting to generate a significant sum in tax-free income.
"Eco2Solar worked hard and efficiently to ensure The Rose Garden solar PV installation was a complete success, with little disruption for our residents," commented Simon Williams, maintenance manager at Festival Housing.
He said: "Festival's residents will benefit hugely from these new solar panels as they will see a significant reduction in their energy bills through their service charge.
"We already regularly install solar panels on our domestic properties but this has been Festival's biggest solar panel project so far. Over the lifetime of the panels, the system will pay for itself accounting for both the Feed-in-Tariff income and the savings created from the electricity generation."
As part of its on-going partnership with Festival Housing, Eco2Solar has recently completed solar PV installations on 180 domestic homes located in Worcestershire and Herefordshire.
"We are delighted to strengthen our partnership and help Festival generate its own electricity at The Rose Garden," commented Paul Hutchens, managing director of Eco2Solar.
He added: "It's fantastic to see residents at The Rose Garden benefit from Festival's investment in solar PV especially at a time when energy prices are getting significantly higher."
The Rose Garden offers an innovative approach to retirement living aimed at the over 55s. Built in 2008, the £15 million development is made up of one and two bedroom apartments and boasts a wide range of facilities including fitness gym and spa pool, restaurant and bar, hair salon and well-being centre.