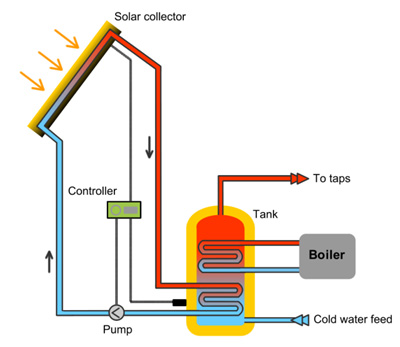 Solar Thermal Panels  take the suns rays and generate heat, this heat can be used to provide hot water and heating in the home dramatically reducing the cost your hot water by up to 70%. This can be especially useful for swimming pools which can cost a huge amount to heat . Eco2solar can quickly give you an outline quote by filling out your details in our web quote. If you like the figures we can then arrange for an onsite survey and firm quote. All of that service is free, and out consultants will explain all the benefits and practicalities of solar energy during this visit.
How Solar Panels Work
Eco2solar can fit Solar panels to your roof or even on the ground, so that they face the sun for the maximum time each day. We can design and install a system which will efficiently integrate into your heating and hot water system. The solar panels contain a thermal liquid which heats up from the suns rays, this liquid then passes through heat exchangers to heat water for use in the home, swimming pool or business.  The liquid in the panels is non toxic, and will not freeze in winter. To find out more go to our solar Heating page or fill out our web quote formand we will send you an estimated quote.
Solar Panels are a great Investment
A Thermal Solar Panel system will be eligible for the Renewable heat incentive, as well as providing up to 70% of your hot water needs for free.  To find out more contact us on 01562 977  977  or fill out our web quote form and we will send you an out line quote.
Environmental Benefits of Solar Panels
Heating your home or office requires large amount of energy, much of this supplied by fossil fuel burning or nuclear power stations.  Investing in your own solar panel system reduces the greenhouse gasses, and nuclear waste generated  by power stations and  replaces this with sustainable renewable energy. This  helps to bring down your carbon foot print. Installing a Solar Thermal system is a great way to be environmentally  friendly and save money on your heating and hot water costs.  In fact the amount of carbon emissions reduced every year by installing a domestic solar heating system is equivalent to taking one car off the road (i.e. about 1500m3 CO2 per annum)  To find out how you can invest in renewable energy contact us now or fill in a web quote and we'll get back to you