Eco2Solar aims to provide cost-effective, environmentally sustainable solar solutions for social landlords and the public sector. Our experience and expertise means you can trust us to successfully deliver on budget and on-time-every time.
What our systems can offer you
Our versatile and specifically designed solar PV and solar thermal systems:
Your solar energy system will provide tax free payments for up to 20 years under the Feed-in-Tariff or Renewable Heat Incentive
Running costs are effectively nil and you can practically forget about maintenance
You can set up monitoring systems to document the panels' performance – a great PR and educational bonus
Who do Eco2Solar work with?
We work with a range of organisations including Registered Social Landlords such as Housing Associations and Local Authorities. We have recently worked with Sanctuary Housing Association, East Midlands Housing and Birmingham City Council.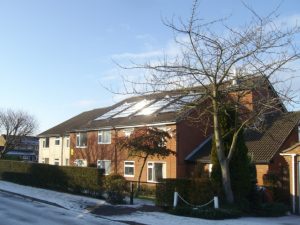 Festival Housing and Eco2Solar
This video talks about how Eco2Solar and Festival Housing have worked together to provide benefits for both Festival and their tenants.
[embedplusvideo height="269″ width="430″ standard="http://www.youtube.com/v/Qlma2tJJH5s?fs=1″ vars="ytid=Qlma2tJJH5s&width=430&height=269&start=&stop=&rs=w&hd=0&autoplay=0&react=1&chapters=&notes=" id="ep3595″ /]
What about large projects?
Eco2Solar has experience in delivering renewable energy installations into multiple houses. This includes project management, tenant liaison and the logistics and dealing with many projects at once.
Worried about meeting carbon reducing criteria?
We can help. Our high quality systems easily satisfy the carbon-reducing criteria set by new planning regulations such as the Code for Sustainable Homes.
Understanding your needs, talking your language.
Our proven experience and expertise in solar power for public buildings and social housing means that we can communicate effectively with building professionals, architects and M & E consultants. We are happy to present a CPD to your architects, engineers or surveyors.
To learn more about the solar energy and heat pump solutions we can offer your business or organisation, please get in touch.