Solar swimming pool heating
Swimming pools need a great deal of energy to heat the water, even by a few degrees. Fossil fuels make this very expensive not to mention bad for the environment, but with a solar panel array you get the heat you need directly from the sun – free!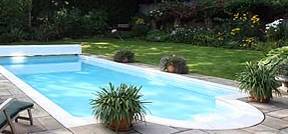 One client spent over £1,500 per summer heating his swimming pool. Now he is saving nearly all that – and helping the environment!
A solar heating system can heat your pool for up to 10 months of the year, is virtually maintenance free with a life expectancy of over 30 years – and costs less than you think!
In fact a swimming pool is an ideal application for solar heating because:
Most pools are used in only in the warmer weather when there is enough solar energy to heat the water without any need for a back-up system.
As there is such a large volume of water in the pool there is always somewhere to "sink" the solar heat so none is wasted
Swimming pools operate at a lower temperature than domestic hot water so heat losses are very low
Eco2Solar can offer you a reliable solar heating system for your swimming pool as a practical alternative to expensive and hard to justify water heating bills. With the present trend towards rising fossil fuel energy prices a pool solar energy system can only be a good investment.
What luxury! A comfortable swim throughout the summer achieved at no cost – with solar heating. There is usually no need to use any other source of heating from Easter through to autumn.
And remember: Eco2Solar are certified for the UK Microgeneration Certification Scheme which enables you to claim the Feed-in-Tariff and proposed Renewable Heat Incentive.
Your local authority may also have additional grant funding for renewable energy so it is worth checking.
In addition to this VAT is usually payable at only 5%.