Solar Panels for your Home
Want to know all about solar panels for your home? You're in the right place!
Solar panels help our customers save the planet, and their pockets. Here's just a few of the reasons why. . .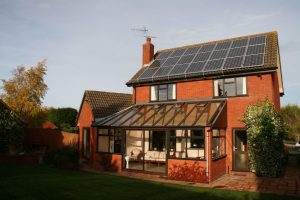 "You get low maintenance, but high returns.
Eco2Solar provide low-maintenance solar panels that successfully produce hot water and generate electricity. Thanks to us, customers have slashed energy bills and earned income of over 10%.
Solar heating or solar thermal home solar panels absorb radiation from the sun and use it to heat your water. The solar energy is stored in your hot water cylinder. "
Solar electric or photovoltaic (PV) technology converts sunlight directly into electricity. This generated electricity can power your business, home or outbuildings.
We supply both types of solar panel – those that produce electricity and those that create hot water.
Doesn't it have to be sunny?
Not at all! Eco2Solar solar panels do not rely on sunshine or direct sunlight to provide solar energy for your home. They are very effective even on cloudy days. If you look out of your window and you can see your garden – then there's enough solar radiation to power your solar panels.
This solar energy generated by our system can be used to power your home, heat your hot water or can be sold back to the grid.
Want to save money on solar panel installation?
For a Solar PV system the Feed-in-Tariff, make it a very attractive long term investment. On an average 3kWp system that costs around £5,198 you can expect to get over £420* per annum – guaranteed for 20 years and index linked.
The new Renewable Heat Incentive will work in a similar manner as the Feed-in-Tariff.
*Assumes Feed in Tariffs of £0.1388 per kWh and electricity cost of £0.15 per kWh; all electricity is used. If electricity is sold back to the grid or energy company, it will generate £0.0477 per kWh on top of the Feed in Tariff.
Combining passion and professionalism
As passionate solar power enthusiasts, Eco2Solar fully believe in our technology's financial and environmental benefits. And as an experienced, expert and professionally run business, we pride ourselves on delivering on time, on budget- every time. To find out more, contact us.
Giving you the best possible solar energy service
We operate an integrated, full service approach to meeting your solar energy needs. Our team will work closely with you to establish your exact solar energy requirements, and tailor each solution accordingly.
Installation is carried out by our own trained and qualified technicians. Following installation, we continue to offer you the highest standards in ongoing solar energy advice and support.
Expert installation and a 25 year warranty
Eco2Solar can design, supply and install your solar home energy system quickly and without fuss, giving you the reassurance of a system that works and is guaranteed by our expertise. The panels carry a performance warranty of up to 25 years, depending on the manufacturer, and are fitted by our team of experts. The panels have a projected life span of 30 years, and are designed to be self-maintained with self-cleaning glass, strong components and weathering capabilities.
Who our customers are (and what they think!)
We provide solar energy solutions for a range of customers including: households, social housing, businesses, schools, charities and swimming pool owners. Want to know what they think of our service? It's all here on our website.
How we work on projects of all sizes?
We are happy to discuss any scale or size of project with you, including standalone systems for solar electricity or solar heating as well as systems incorporating under-floor heating and large integrated solutions covering other technologies such as biomass, wind turbines and heat pumps (ground source or air source). Interested? Just get in touch.
Whether you envisage a simple installation to add home solar panels to your home for electricity or a more complex solar heating system which can utilise your existing hot water system or you are building from scratch, Eco2Solar can design & install open vented systems, mains pressure unvented systems or even combi boilers for your domestic hot water, under-floor heating or swimming pool.
Did you know?
[box type="shadow"]
On sunny summer days the UK experiences levels of solar energy equal to 60% of those at the equator
Installing a domestic solar energy system cuts your pollution equivalent to taking one car off the road (i.e. about 1 tonne CO2 per annum)
60% of greenhouse gases in the UK are emitted by buildings
[/box]
Get your free, no-obligation solar energy quote
We are always happy to discuss how solar energy can make a positive difference to your finances and lifestyle. For a free no obligation solar panel quote, please contact us today.
Solar panels are one of the most cost effective ways to reduce your utility bills and make a positive contribution towards the environment.