Solar Panels for Business
Every successful business looks for a competitive edge. Solar power can help. A solar PV (photovoltaic) or solar thermal system can cut your long-term fuel costs and boost your company's green energy credentials.
Eco2Solar's experience and expertise means you can trust us to successfully deliver on budget and on-time-every time.

What our Solar Panel systems can offer you
Our versatile and specifically designed solar PV and solar thermal systems:
Your solar PV system will provide tax free payments for 20 years under the Feed-in-Tariff or the Renewable Heat Incentive.
Running costs are effectively nil
You can practically forget about maintenance
You can set up monitoring systems to document the panels' performance – a great PR and educational bonus
Who do Eco2Solar work with?
Our systems are ideally suited to a range of organisations, including: housing developments, multi-occupation office blocks, care homes, hotels, spas, restaurants, factories, shops and public leisure facilities.
Solar Panels for Barratt Homes, West Midlands
The Following Video explains how Eco2Solar are working with Barratt Homes.
[embedplusvideo height="298″ width="480″ standard="http://www.youtube.com/v/Gw7YzO7xUK0?fs=1″ vars="ytid=Gw7YzO7xUK0&width=480&height=298&start=&stop=&rs=w&hd=0&autoplay=0&react=1&chapters=&notes=" id="ep7498″ /]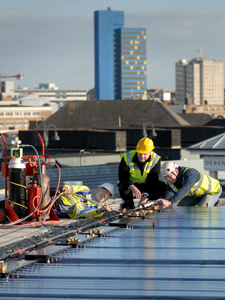 How to use your green credentials to drive more business

Solar energy isn't just about reducing your business' energy bills. "Being seen to be green" can be an excellent way to boost profits and build your corporate reputation with your stakeholders.
There is an ever increasing media, legislative and customer focus on the environmental impacts of any business. Investing in an Eco2Solar solar energy solution helps you demonstrate your green credentials, and offers immediate significant marketing and Public Relations opportunities.
Interested in tax break for your business?
Our solar thermal and heat pump systems are eligible for business tax breaks under the Carbon Trust Enhanced Capital Allowance (ECA) scheme. This means you can write off 100% of the entire loop and coil system, not just the panel, in the first year. For more information, please get in touch.
Worried about the new carbon reducing criteria?
We can help. Our high quality systems easily satisfy the carbon-reducing criteria set by new planning regulations such as the Code for Sustainable Homes.
Understanding your needs, talking your language
Our proven experience and expertise in commercial solar power means that we can communicate effectively with building professionals, architects and M & E consultants. If you run an architectural practice or mechanical & engineering consultancy we are happy to present a CPD to you.