North Sea oil & gas are running out and world oil stocks are falling

Gas supplies controlled by unstable countries

1/3 of UK generating capacity gone by 2015
As has been evident in the media recently, fossil fuel supplies are becoming scarcer and more expensive. As North Sea oil and gas dwindle, it is increasingly the case that our essential fuel supplies are in the hands of foreign powers. More of a concern is that much of our energy is now controlled by countries with which the UK is not on the best of terms (Russia and the Middle East for example).
It has been estimated that by 2015 Britain's power generating capacity could be cut by a third as ageing coal and nuclear power stations are closed
Before too long there will be a "price shock" which will make everyone who uses energy in the UK sit up and think. Just look at the recent rises in oil prices!
Only one thing seems certain; prices will rise……….
… After 570,000,000 years in the making
Oil: cradle to grave in 200 years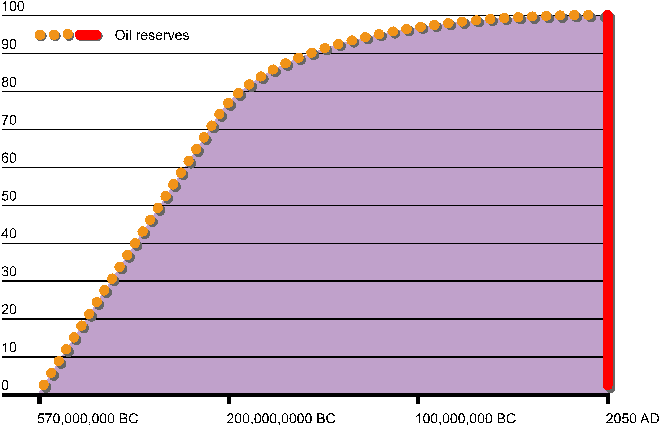 "The idea of the lights going out is not a fantasy. People seem to accept that security of energy supply is a right. It is not" Sunday Times May 2007
Energy Security & Climate Change (from the Foreign & Commonwealth Office website)
The international energy challenge is to maintain access to secure and affordable energy supplies while mitigating the effects of climate change.
The United Kingdom is set to become a net importer of oil and gas in the current decade, and will be reliant on supplies from around the world. Failure in the UK's energy supplies would be felt almost immediately. A serious disruption could rapidly have serious effects on the economy, public services and security of the country.
Climate change is a serious global threat to the environment and to the global economy. The costs if we do nothing could be enormous. Swiss Re, the world's second largest insurer, has estimated that the economic costs of global warming could double to USD150 billion each year over the next 10 years. Climate change is a global problem and requires a global solution to mitigate its eventual extent, by reducing our emissions of carbon dioxide and other greenhouse gases.
'Climate Change is a 'Today problem not a tomorrow one'. – Margaret Beckett MP (September 2006)