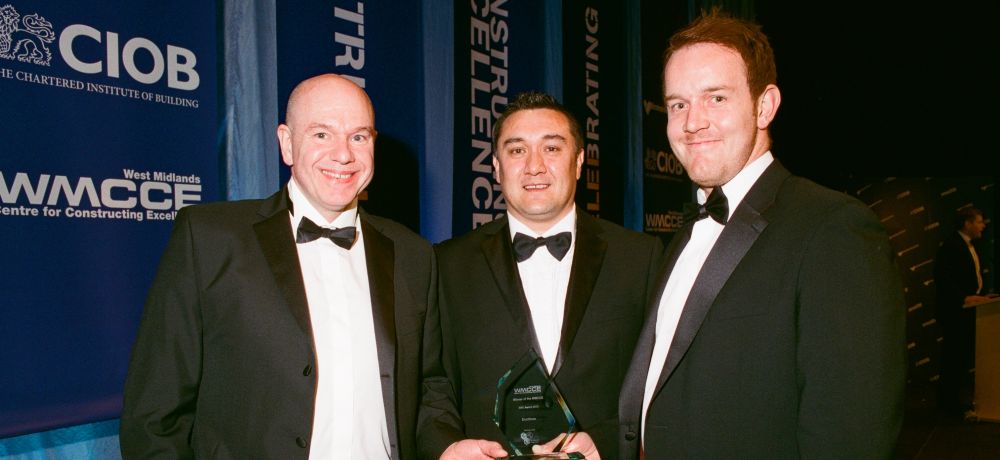 Eco2Solar are celebrating after scooping a top accolade at this year's prestigious West Midlands Constructing Excellence Awards, we beat off tough competition from fellow finalists GL Mastics and Inex Home Improvements to win the industry's SME award at the International Convention Centre in Birmingham.
Organised by the West Midlands Centre for Constructing Excellence (WMCCE), the award recognises Eco2Solar's 'best practice' in providing solar photovoltaic, solar thermal and heat pump installations for a broad range of commercial clients throughout the West Midlands.
In particular, judges were impressed with Eco2Solar's commitment to quality, customer service and the most up to date technologies, whilst we were also praised for our significant growth; having turned in record end of year figures, with turnover well in excess of £5m.
This award win is even more exciting for Eco2Solar, as it means that we automatically qualify for entry into the National Constructing Excellence Awards 2012 in London, this November.
Eco2Solar's Managing Director, Paul Hutchens spoke about the achievement; "We're delighted to be recognised by WMCCE for our services and growth in the West Midlands. The award is a fantastic testament and acknowledgement of the hard work of our entire team over the last five years.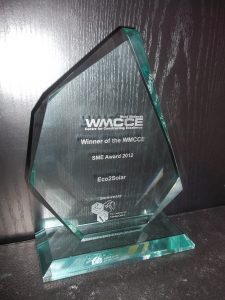 "Despite the challenging economic climate, we have remained at the forefront of our industry not only in the West Midlands but also further afield with high profile projects in London, the North-East and North Wales being completed in the last few months.
"We are committed to delivering a quality service and providing renewable energy for our customers to help significantly reduce carbon footprints, which is vital to protecting the future of our environment."
Tony Wehby, chairman of the West Midlands Constructing Excellence Awards, also spoke about Eco2Solar's win: "The judges were unanimous in their decision to award Eco2Solar with the SME award. They were impressed with their ability to demonstrate growth in the recession and their ability to invest in new markets and technologies.
"Eco2Solar are a very worthy winner and we wish them every success at the Constructing Excellence National Awards."