9th June 2014
Eco2Solar key customer Speller Metcalfe scoops 2 awards at NFB ceremony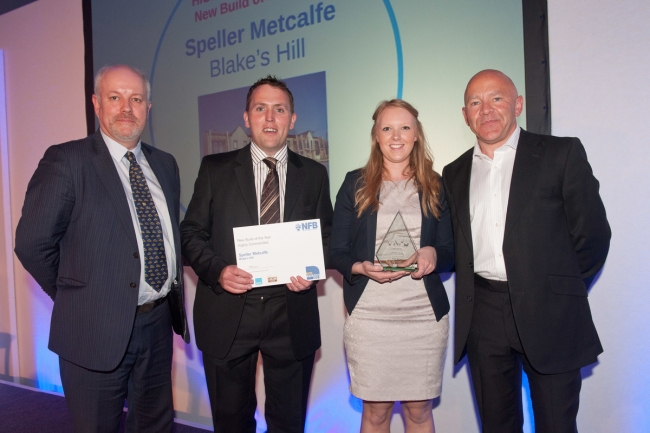 Hosted by TV presenter and consumer affairs specialist Dominic Littlewood, more than 160 members and guests came together from all over the country to celebrate the awards, with Speller Metcalfe scooping the Commitment to Environment & Sustainability Award for a new build scheme on behalf of Western Power Distribution and outperforming some of the UK's top contractors.
Eco2Solar were responsible for the supply and installation of the solar panels on the Western Power Distribution buildings as Speller Metcalfe's preferred supplier of renewable energy technologies.
The team was also 'Highly Commended' for the 'New Build of the Year' category for Blake's Hill, a sustainable housing venture in Evesham, delivered in partnership with Rooftop Housing Group. The scheme is being touted as an exemplar to housing associations looking to deliver the highest levels of sustainable construction in affordable housing.
Welcoming guests, NFB national chairman Paul Senior of Keepmoat said: "You represent all the hard work and effort that has been needed at every level of the industry in the past few years, to overcome barriers, to deal with the changing world of construction, and to think and act in new ways."
Dominic Littlewood told the audience: "Congratulations to all the winners, it is nice to be presenting awards to the builders and associate companies who've done the job right."
http://www.spellermetcalfe.com/news/speller-metcalfe-scoops-two-awards-nfb-ceremony