11th October 2011
Eco2Solar Features in Worcestershire Now!
lluminates the Mysteries of Green Energy:
Being green and saving money can go hand-in-hand when it comes to producing your own energy at home
Whilst everyone would like to be more environmentally friendly, there's no question that everyone would love to save money. And with spiralling energy costs, alternative sources for heating and electricity are high on the agenda for homeowners.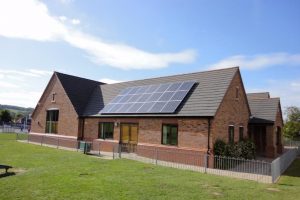 Help is at hand in the form of Worcestershire-based solar energy specialists Eco2Solar Limited. This family-run firm can advise on and install solar panels which can produce either heating and hot water (solar thermal) or electricity (photovoltaic energy or PV).Unlike some other forms of eco-energy, fitting solar panels requires minimum disruption to your home and using a trusted local company like Eco2Solar also offers peace of mind.
Managing Director Paul Hutchens explains: "Eco2Solar is a family business. We employ all of our own surveyors and installers, meaning you should always get the same level of personal but professional service." This professional service, combined with the high levels of customer care isn't all that's on offer with Eco2Solar's solar panels. Thanks to the Government's Feed-In Tariffs (or FITS) scheme, which pays homeowners for electricity they produce or for electricity they export back to the national grid, people using solar panels can actually make money back from them. And now is the perfect time to get involved with solar energy, as Paul explains: "Solar energy, especially solar PV, provides a return on your investment which is difficult to beat – up to 15% for a well installed system guaranteed for 25 years and linked to inflation. The Feed-in Tariffs are being reviewed and will reduce in April 2012, so now is the time to look at investing in solar."
From October next year, the Government's Renewable Heat Incentive (RHI) scheme means customers looking to install solar panels to heat their homes can also benefit from money-back savings. The scheme is expected to offer regular payments over a 20-year period depending on the amount of energy produced. Due to the quality of Eco2Solar's solar installations and customer service, the company was awarded accreditation from the UK Microgeneration Certification Scheme (MCS) in 2008, one of only 12 solar installation companies to be accredited in the UK at the time. This distinction means Eco2Solar's installations are eligible to qualify for FITS and the upcoming RHI repayment scheme, meaning the technology can be kind to the environment and to customers' pockets.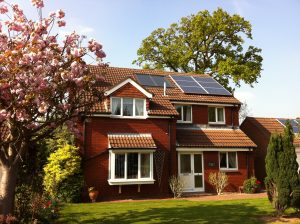 But doesn't it need to be sunny to use solar panels? Ask the friendly team at Eco2Solar and they'll tell you that it's the sun's radiation that the panels are charged by, not the amount of sunlight generated. As their website explains: "Panels are very effective even on cloudy days/ If you look out of your window and you can see your garden, then there's enough solar radiation to power your solar panels."
Want to know more about this exciting, environmentally friendly, low maintenance solar technology? For further details or to request a quotation from Eco2Solar visit www.eco2solar.co.uk