9th October 2012
Eco2Solar Are Delighted to be Gain Top Employer Award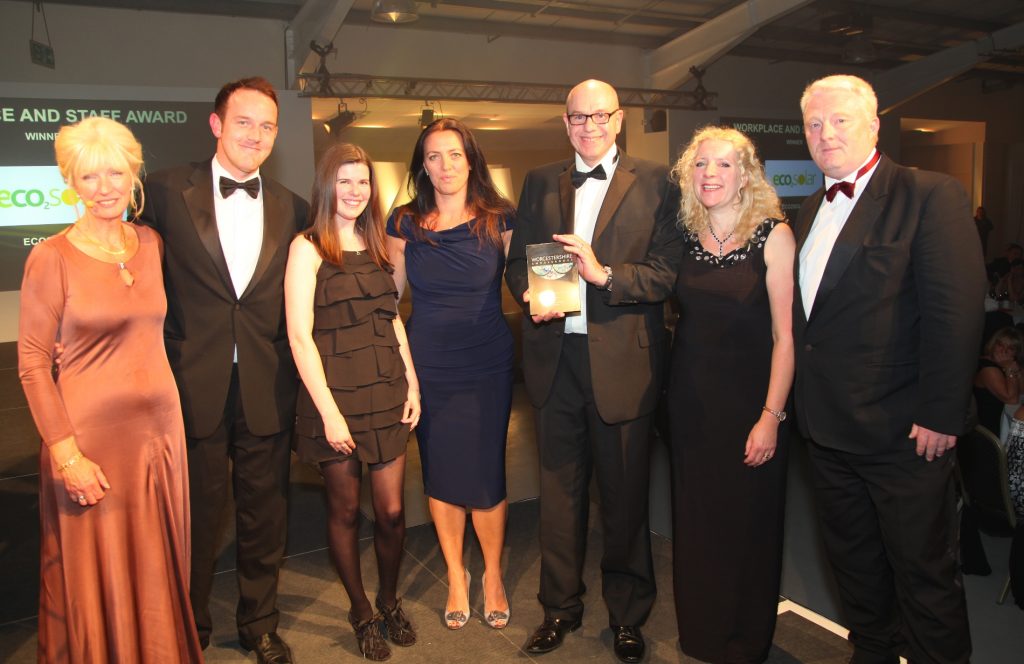 Eco2Solar has been recognised for its success in creating a motivated and well-trained workforce at this year's Worcestershire Ambassadors' Corporate Social Responsibility (CSR) Awards. We beat off tough competition to win the popular 'workplace and staff' award, sponsored by Sanctuary Housing, at Herefordshire & Worcestershire Chamber of Commerce Business Awards 2012.
Organised by the Worcestershire Ambassadors, the award recognises our success in offering workplace initiatives and employee support which goes above and beyond the standard legal requirement. In particular, judges were impressed with Eco2Solar's managing director, Paul Hutchens for his unique drive to develop and maintain a harmonious workforce.
"Paul is a determined and passionate entrepreneur, but one that does not lose sight of the importance of a friendly word, a personal training programme, and a very detailed and regular employee review," said chair of Worcestershire Ambassadors, Phil Dutton.
He added: "Immediately evident in Paul's techno-immersed business is a rare sense of an owner, management and staff at peace with themselves to the absolute benefit of everyone in the group.
"Importantly, Eco2Solar knows how to motivate and challenge its staff and have a great time as well. It is a very personal and inclusive employer with a staff development model second to none."
As a family run firm, Eco2Solar employs 26 people in Kidderminster. As well as providing regular external training, we have also been providing training for our own employees since 2010, enabling our staff to benefit from on-going training and development on-site.
Eco2Solar's Managing Director, Paul Hutchens, commented on the award win; "People are at the heart of our business and in the current economic climate, we recognise that it is our staff that set us apart,"
He said: "That's why, unlike many of our competitors, we have chosen to invest time and effort in developing a workforce programme that supports personal growth and development.
"We're delighted to be recognised and proud to be amongst the previous winners of this award category. It is a real testament and acknowledgement of our hard work and dedication to the on-going development of our expanding team over the last five years."