23rd October 2012
Dance Students Join Eco2Solar to Put Green Energy Top of the Agenda at Worcester Event!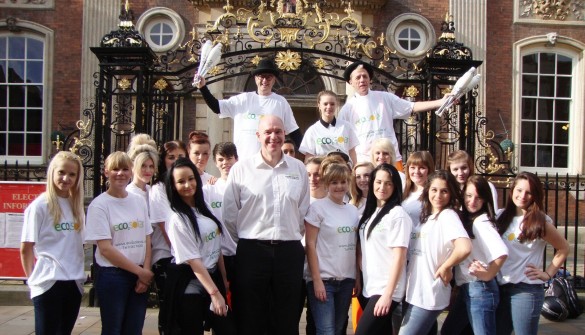 Eco2Solar enrolled the moves of Kidderminster College dance students to help put green energy in the spotlight. We were joined by 22 L3 Extended Diploma dance students aged between 16 – 19 years old on Friday 19thOctober; to mark the opening of Eco2Solar's free 'Making Sense of Green Energy' event at Worcester's Guildhall.
Unsuspecting shoppers were treated to an impromptu urban dance spectacular on the High Street, Worcester near to the Guildhall featuring a 'mash up' of music including Katrina & The Waves' Walking on Sunshine.
The flash mob helped to support the free public awareness event which Eco2Solar staged at the Guildhall to help educate homeowners on the benefits of energy efficiency in the home, how to generate green energy, plus the latest developments on the government's incentive schemes.
Organised by Eco2Solar, the event showed homeowners how to reduce energy bills and generate their own electricity by investing in the latest energy efficiency and renewable energy solutions.
"We're delighted to have such talented dance students from Kidderminster College join us in celebrating green energy," commented Paul Hutchens, managing director of Eco2Solar.
He said: "What better way to kick off our event than a surprise flashmob dance. It is thanks to the hard work and commitment of the students involved from Kidderminster College that we have been able to make this possible.
Anna Lines, course leader for dance at Kidderminster College said: "We're very proud to be asked to be involved in Eco2Solar's awareness event and showcase the talent of our local dance students for all to see."
If you weren't lucky enough to see the Kidderminter College students strutting their moves, take a look at our youtube page; we would love to know your thoughts!