10th January 2012
Community-Based Solar Power Scheme is National First For Stratford Hospital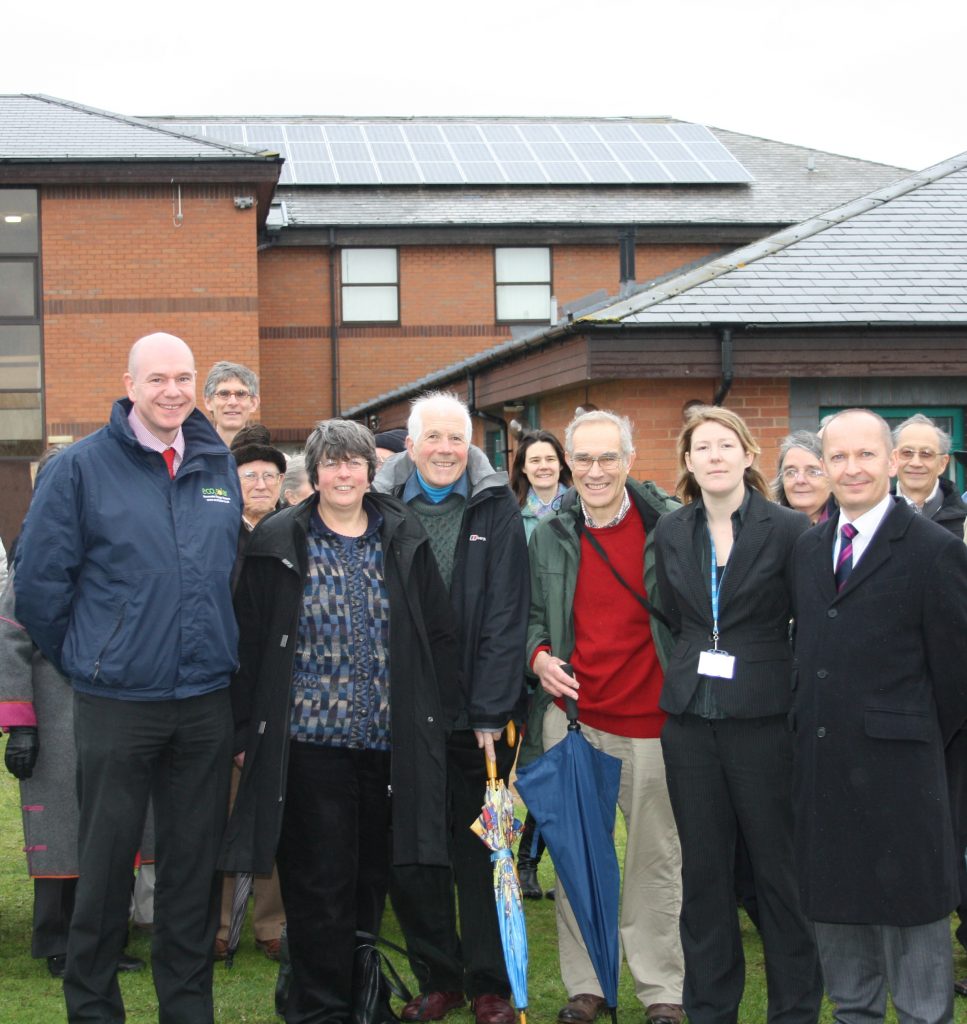 Eco2Solar has installed a solar power array at Stratford upon Avon Hospital – the first time a community-based renewable energy project has been installed at an NHS site.
The innovative scheme has been put together by local energy co-operative Community Energy Warwickshire and South Warwickshire NHS Foundation Trust, which runs Stratford and Warwick Hospitals. Eco2Solar was selected as project installer following a detailed competitive tendering process organised by Community Energy Warwickshire.
Over two dozen members of Community Energy Warwickshire joined Eco2Solar Managing Director Paul Hutchens and South Warwickshire NHS Foundation Trust Chief Executive Glen Burley just before Christmas to celebrate the installation and discuss future plans. The 10 kilowatt array at Stratford is the first phase of the project, which will also see a further 50 kilowatts of solar power installed at Warwick Hospital early in 2012.
Community Energy Warwickshire, which was set up by Warwickshire residents to invest in renewable energy and help local communities save energy, has already raised over £100,000 of its target of £120,000 to fund the installations. The fifty-two Suntech STP190S-24Ad+ panels installed at Stratford are expected to produce over 8,000 kWh a year of renewable energy for the hospital.
Paul Hutchens, managing director of Eco2Solar, said: "We were delighted to help Community Energy Warwickshire achieve their target of completing the Stratford installation before the Government's December 12 deadline for reductions in feed-in tariffs. Eco2Solar deals with a number of community organisations who are working together to ensure renewable energy plays a larger role in their local area. We are also pleased to be able to help South Warwickshire NHS Foundation Trust realise energy savings at a time when public spending is under pressure."
Keith Sinfield, the Chair of Community Energy Warwickshire, said: "Eco2Solar worked hard and efficiently to help us get the Stratford installation completed on time. We are delighted our innovative partnership with South Warwickshire NHS Foundation Trust is already generating renewable energy and look forward to working with the Trust on energy saving initiatives."
For more information on the Community Energy Warwickshire scheme, www.cew.coop.