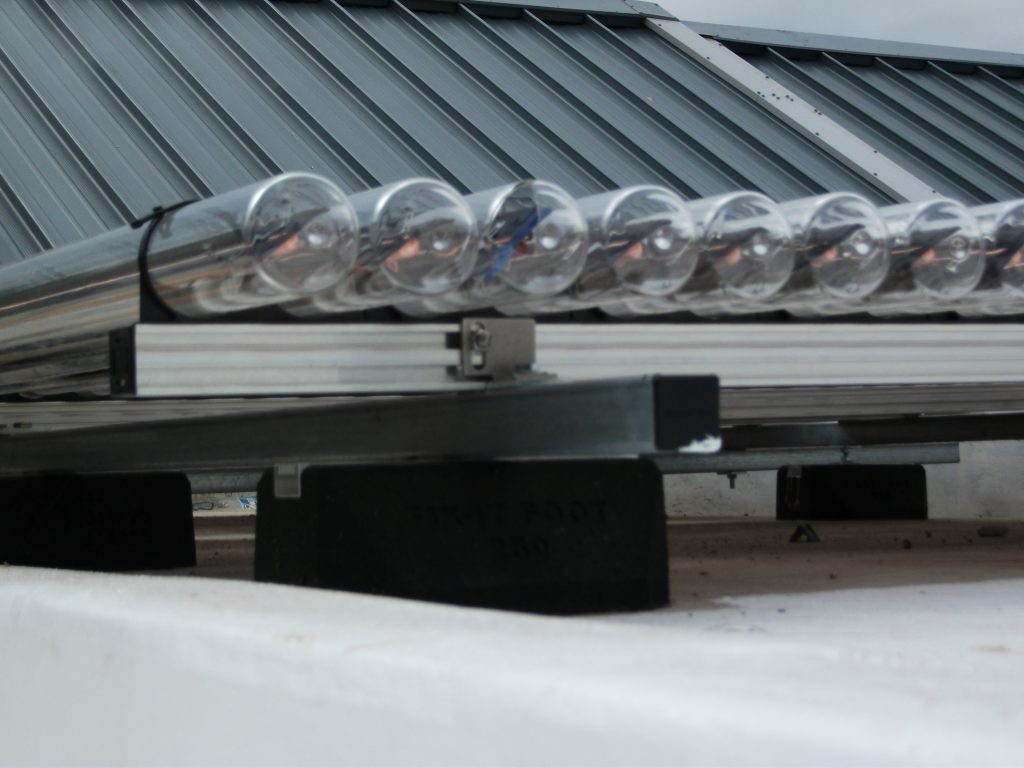 The Government needs to demonstrate that they are hitting environmental targets to reduce carbon emissions. Energy saving measures are now a priority and, to demonstrate this, the government set up the Department for Energy & Climate Change (DECC) in 2008. Therefore the Feed in Tariffs and the Renewable Heat Incentive are available to individuals, businesses and public bodies to reduce carbon emissions and promote energy saving.
Fully Accredited
Eco2Solar are accredited under the UK Microgeneration Certification Scheme (MCS) for Feed in Tariffs and to install approved technology that will be eligible for the Renewable Heat Incentive. This is a difficult qualification to obtain and, when we received this certificate in April 2008, we were one of an elite group of only 12 solar installation companies to be accredited. This is a demonstration of the quality of our solar heating installations and our customer service. [box type="warning"] If a solar installer is not accredited to the MCS, then you cannot claim the proposed Renewable Heat Incentive or the Feed in Tariffs [/box]
What is the Renewable Heat Incentive?
The Renewable Heat Incentive (RHI) is like Feed in Tariffs for heat; all sorts of heat not just Solar Thermal energy. You can benefit from it if you install any of the following types of renewable technology: [box type="shadow"]
Biomass (wood burning) Boiler
Air source and Ground source Heat Pumps
Solar Thermal panels
[/box]
How does the Renewable Heat Incentive work?
It works in a similar way to the Feed in Tariffs in that you, the customer, receive a premium rate for every unit of heating that is generated by the system. The RHI has been introduced separately for commercial and domestic properties: [box type="shadow"] Commercial RHI commenced in July 2011 for solar thermal, biomass and ground source heat pumps. Energy to be metered and tariff lasts for 20 years.
Domestic RHI commenced in March 2014 for solar thermal, biomass, ground source and air source heat pumps. It is payable at a higher rate for 7 years [/box]
While the Renewable Heat Incentive is similar to the Feed-In Tariffs, there are some important differences, and in particular:
It will be paid for by the Treasury not by energy users.
There is no 'National Grid for Heat' and so importing and exporting heat is not relevant.
It will be introduced in phases, with residential schemes not eligible until Phase 2.
Commercial RHI
The tariff table below shows the tariffs that will be applicable for all technologies from 1 Janauary 2015 following DECC's announcement that there will be no degression reduction. This table also shows the RPI adjustment that will be made to current and existing tariffs from 1 April 2014.
Tariff Name
Eligible Technology
Eligible Sizes
Tier
Current applicable tariffs for 1 January 2015 onwards
Small commercial biomass
Solid biomass including solid biomass contained in municipal solid waste and CHP
Less than 200 kWth
Tier 1
3.76
Tier 2
1
Medium commercial Biomass
200 kWth and above; less than 1MWth
Tier 1
5.18
Tier 2
2.24
Large commercial Biomass
1MWth and above
N/A
2.03
Small commercial heat pumps
Ground-source heat pumps; Water Source heat pumps; deep geothermal
Less than 100 kWth
N/A
8.84
Large commercial heat pumps
100 kWth and above
N/A
2.64
Air source heat pumps (cmmn'd after 4/12/13)
Air source heat pumps
All
N/A
2.54
All solar collectors
Solar collectors
Less than 200 kWth
N/A
10.16
Domestic RHI
| Current Domestic RHI tariff rates | Biomass boilers and biomass stoves | Air source heat pumps | Ground source heat pumps | Solar thermal |
| --- | --- | --- | --- | --- |
| Tariff (per kilowatt hour renewable heat) | 5.14p | 7.42p | 19.1p | 19.51p |
The rate paid will be calculated via a deemed assessment of each individual system, to estimate how much energy is it is likely to produce.
It is also important to note that system owners will be required to have a Green Deal Assessment on their property and meet certain energy efficiency standards to be eligible.
For the more information, please refer to: https://www.ofgem.gov.uk/environmental-programmes/domestic-renewable-heat-incentive
How much am I owed for the energy I've generated?
The government is proposing to deem the generation levels of the systems based on the expected amount of energy generated, and then calculates the payment owed when aligned with the relevant Renewable Heat Incentive rate.
Please note that all rates above are from 1st January 2016 and correct at time of insertion. These are subject to change at any time.