28th July 2011
Become an Eco Champion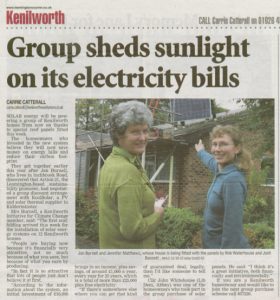 Eco2Solar encourage group installations where homeowners get together to get a discount for their solar PV installation. This works really well because:
We can reduce costs through efficiency and economies of scale
It reduces the carbon footprint of travelling to multiple places
The impact to the area is much higher
Eco2Solar have installed nearly 100 installations now for groups of 5 – 25 homes. In most cases we are able to offer a discount of up to 25% and clients are getting an annual return of 12% and more!
Jan Burnell from Kenilworth, one of the first to benefit from one of these group discount schemes said "People are buying now because it is so financially attractive; not so much because of what you save but because of what you earn by producing your own electricity. In fact it is so attractive some people just don't believe it at first."
Please get in touch to discuss how this might work in your area.